Invisible Dog Fencing
Keeping your pet safe and contained is Doggie-Do-Rite's business! Our trained professionals will help you choose the right pet containment system for your space and right receiver for your pet.
We provide pet fencing solutions for new or current owners, dogs and cats, and indoor or outdoor systems. This gives your pet the freedom they deserve, while you can rest assured that they'll be safe and won't leave their boundary.
Whether you're looking for a new system, or need your current one repaired, we're ready to help. We also provide replacement batteries and receivers for Pet Stop® and Invisible Fence® brand owners.
Outdoor Fencing
Our customizable dog or cat fence can be designed with diverse zones and settings, and is buried out of sight to maintain the beauty of your property. When installing your new hidden fence, we will bury a wire around the perimeter of your property with training flags to indicate where the new invisible boundary is. This wire begins and ends at a transmitter that is located at an indoor outlet for power, typically in a garage. Your pet will begin to wear a small customized receiver that is programmed for their individual size and temperament. Using our low-stress GentleSteps™ Training method, your pet is introduced to the boundary and is free to roam your property without worry of leaving in roughly 1-2 weeks.
Indoor Fencing
A common misconception about pet-containment systems is that they are only for use outdoors. Pet Stop brings the benefits of boundary setting indoors, too. Not just for outdoor containment, our technology can easily keep kitty off the kitchen counter, or the dog out of the litter box. You can choose either a wireless or custom-wired system. Our indoor boundaries can either be a wireless zone or custom wired with the line discreetly hidden. Our indoor system is accurate enough to create zones as small as only a few feet. The RoomWizard™ is offered in both wired and battery-operated versions.
GentleSteps Training
Doggie-Do-Rite uses the revolutionary low-stress training method, GentleSteps™, to introduce and train your pet to their new electric pet fence boundaries. This training technique was designed to keep the stress for both you and your pet down to a bare minimum, and can even make training fun! We don't use painful zaps to train your pet – the correction levels we use are mere tickles, just enough to startle your pet into recognizing and backing away from the boundary.
GentleSteps™ also allows us to customize your pet's training experience to match his or her individual personality. Every pet is different and has different learning needs. With GentleSteps™, combined with our top-of-the-line, highly customizable Pet Stop® electric fencing products, our pet experts will be able to determine the best training and correction settings for your pet. In most cases, pets are trained to the fence in just a couple of weeks!
Learn More
Custom-Designed Fence Layouts
We'll custom-design a fence layout to meet your specific needs. Below are some examples of our most common layouts: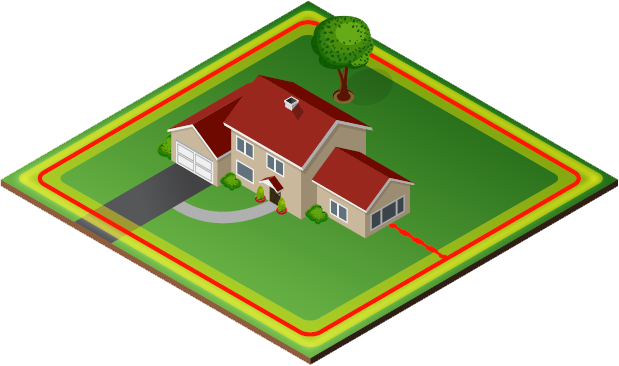 Full Perimeter Loop
Our most common layout installation is a Full Perimeter loop. This layout gives your pet free-range to roam your yard but not leave it.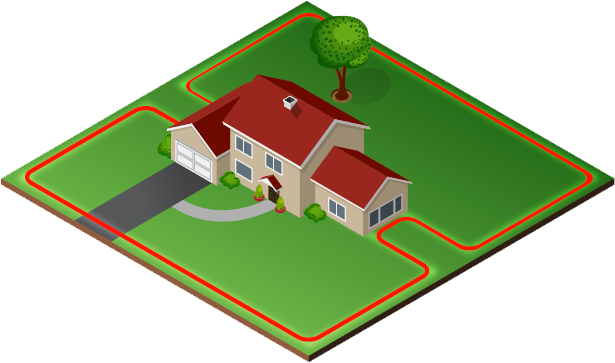 Figure 8 or "Pinch in"
Also, common is the Figure 8 layout. It's like the Full Perimeter loop, but with a pinch in the middle. This allows you to contain your dog in either the front yard or the back yard, it's up to you.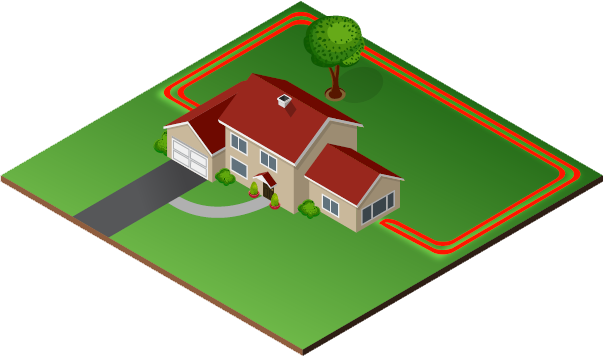 Double loop or Banana Loop
The double Loop layout is used to contain only the front or back yard. It's generally only used when your property's geography won't allow for installation around the whole property.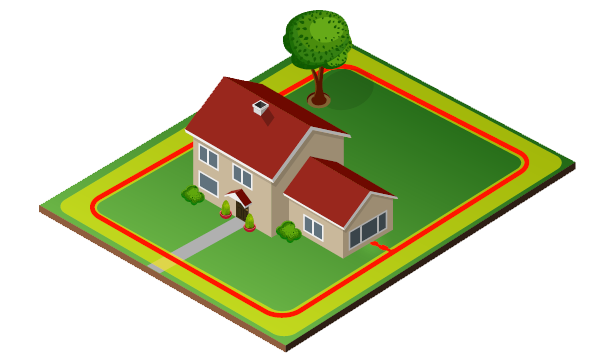 Edge-To-Edge™
Small yards are no problem at all for Pet Stop technology. Our boundary fences offer settings to create a one-sided signal zone around the perimeter wire in order to maximize the amount of yard your pet can enjoy.
Invisible Fence® Independent Support
While Doggie-Do-Rite is an authorized provider of Pet Stop® brand electronic pet fencing systems and is not associated or affiliated with any other pet fencing company, we can provide expert independent service and repairs on all other brands of underground, electric pet containment systems – this includes Invisible Fence®, Pet Safe®, Innotek®, Dog Watch®, Dog Guard®, etc.
We thank you for taking time out of your busy schedule and allowing us the opportunity to assist in your pet containment needs.
Please use the contact form below to get in touch with us, or call us at 713-419-6306.